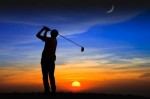 Fit for the Fairway: Get Golf Ready
Free Seminar!
Golf season is coming, don't start this year in pain or with an injury.  Learn how you can shake the winter rust off, move better, and play your best, pain-free.
Dr. Paul Kochoa, PT, DPT, OCS, CGFI will be presenting a free seminar discussing components of the golf swing and the body-swing connection.  He will cover topics like the causes of swing faults, movement tests, corrective exercises, how to improve your swing, and how physical therapy can help.
Dr. Kochoa is a physical therapist at Professional Physical Therapy and Training, and a certified golf medical professional.
If you want to know how to improve your game and lower your scores, all the while staying healthy and injury free, then this free seminar is for you.
When:  Wednesday, April 12 at 6:30pm-7:30pm
Where: Madison Area YMCA Kroll Room
Please stop in to our clinic, email, or call us to RSVP
SPACE IS LIMITED! MAKE SURE TO CONTACT US TO RESERVE YOUR SPACE TODAY!
info@professionalptandtraining.com
973-270-7417
Image courtesy of pat138241 / FreeDigitalPhotos.net