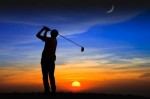 Golf Fitness and Training Part II
Free Seminar!
In part II of the Golf Fitness and Training series, Dr. Paul Kochoa, physical therapist and golf medical professional, will cover more exercises and drills that can help you improve your power and distance. 
Dr. Kochoa is a certified level 3 golf medical professional by TPI.
TPI is the Titleist Performance Institute, the world's leading educational organization dedicated to the study of how the human body functions in relation to the golf swing.
Learn how you can create more effortless power, distance, and avoid injury. Dr. Paul Kochoa is presenting this free seminar and will cover topics such as swing mechanics, and corrective exercises and drills to improve power and distance off the tee and into the green.
If you play with pain, want to get rid of it, or want to improve your swing, this free seminar is for you..
When:  Tuesday, March 20 at 7:00-8:00pm
Where: Professional Physical Therapy and Training
Presented by: Dr. Paul Kochoa, PT, DPT, OCS, CGFI-M3
Please stop in to our clinic, email, or call us to RSVP
SPACE IS LIMITED! MAKE SURE TO CONTACT US TO RESERVE YOUR SPACE TODAY!
info@professionalptandtraining.com
973-270-7417
Image courtesy of pat138241 / FreeDigitalPhotos.net