Hanging in the Balance: Advanced Drills and Activities to Improve Stability
Free Seminar!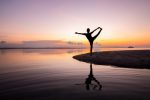 Karen Tom, PT, MPT, CSCS is presenting a 45 minute seminar focused on drills and activities to improve balance and stability.
A 10 minute lecture describing the mechanisms of balance, followed by a 30 minute session of balance exercises.
Who should come: Anyone looking to improve their balance, agility and confidence in activities of daily living and sports performance.
Karen Tom, PT, MPT, CSCS holds a Masters Degree in Physical Therapy from Loma Linda University in California. She is a Certified Strength and Conditioning Specialist, and was the lead instructor for the 2011 Mariners Swim Team strengthening and conditioning program.
In addition to being a physical therapist, Karen is also a certified indoor cycling instructor and is a certified level 3 hockey coach for USA Hockey. She is well known in the Madison community for her coaching of hockey and soccer, as well as her efforts with local education and charities.
When: May 17th, 2017, 10:15 am-11 am
Where: Madison Area YMCA
Please stop in to our clinic, email, or call us to RSVP
info@professionalptandtraining.com
973-270-7417
Image courtesy arztsamui / FreeDigitalPhotos.net