11 Thu
Don't have time to stay fit during the holidays? Try the 7-minute workout.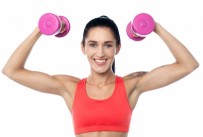 Don't have time to stay fit during the holidays? Try the 7-minute workout.
Paul Kochoa, PT, DPT, OCS, CKTP, CGFI
Recently, I've had a couple patients come in who really, really, really wanted to get back into exercising and getting back in shape. They were injured and had difficulty getting back to their regular workout routine, and wanted to get their sweat back on.  I mentioned the 7-minute workout. (I used to do it last year)
The 7-minute workout is a scientifically proven workout routine that provides the same benefit of an hour of cardio or weight training in a short, intense seven minutes.  Researchers showed that exercising at a high intensity in short, quick intervals produced the same molecular changes in the muscles comparable to several hours of biking or running.  The trick to getting the benefit is the intensity.
This 7-minute workout is made up of 12 movements, each done for 30 seconds with a 10 second rest in between.  The intensity at which you should be exercising should be very high.  On a scale of intensity from 0 to 10, with 10 being very difficult and the highest exertion level, the 7-minute workout should be performed at a level 8.
The New York Times has an article about it from last year, or you can search in the App store for a free app that can keep track of the time and exercises for you.
If you would like more information, please call Professional Physical Therapy and Training at 973-270-7417.  Our offices are located within the YMCA locations in Madison and Summit, NJ.  You do not need to be a member of the YMCA to visit us.
Image courtesy of stockimages / FreeDigitalPhotos.net