15 Mon
Summer Travel Part I : Pack the right footwear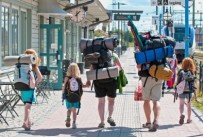 Summer Travel Part I : Pack the right footwear
WRITTEN BY:  MICHELLE MILLNER, PT, DPT, OCS
In the last few weeks, I've had several patient's go on vacation. As a seasoned traveler and a physical therapist I know the toll traveling can take on your body. So let's start a series about staying healthy, fit and injury free during your summer travel. Part I will discuss the packing proper footwear for the trip. Planning things in advance and preparing can really help prevent injury. The following are some tips to help you pack better footwear.
Different activities require different shoes. What activities are you planning on doing? If you might be hiking, it's good idea to bring some hiking shoes with you. If you will be walking around town a lot more than you would normally walk, it's a good idea to bring very comfortable shoes. Sneakers or tennis shoes are often the most supportive. If you have multiple activities planned, I would recommend bringing the appropriate shoes for each activity. Trying to consolidate your shoes might make your suitcase lighter, but it could make your feet more sore and end up in unwanted injuries.
Vacation time often means going to places you don't typically go to. New places often mean new shoes. But new shoes often mean blisters. If you need to get new shoes for your trip, buy them in advance, so you have time to assess whether they are comfortable for you. The other option to wear shoes you have used and worn in well. Getting blisters from new shoes is a very real possibility. Make sure the shoes you plan to wear are supportive but comfortable and that you are sure they will be comfortable for their intended purpose.
If you have any specific questions about proper footwear, feel free to contact us.  You can call Professional Physical Therapy and Training at 973-270-7417.  Our offices our located within the YMCA locations in Madison and Summit, NJ.  You do not need to be a member of the YMCA to visit with us.
The most important thing is for you to be comfortable in your shoes so you can enjoy your vacation without blisters or injuries.
Next up: tips for long plane and car rides. 
Image courtesy of Poulsen Photo / FreeDigitalPhotos.net