23 Mon
Summertime: a great time to get caught up with your health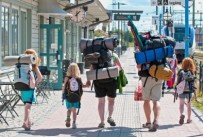 Summertime: a great time to get caught up with your health
Summer is a great time of year.  No school, less work, traveling, vacations…  But don't let summer mean a vacation from your health.
Summer may be the best time to get caught up when it comes to your health.  Perhaps you're a middle age guy who just spent the whole winter doing a lot of shoveling and have a nagging pain in your back.  Or you're a college student or athlete with tendonitis, that is in between semesters or even in between sports.  Or you're a teacher with wrist problems who's off from school.   Whatever the case, we're here for you.
Now is the prime time to take care of issues that have been bothering you since the beginning of the year.  Take the time to fully recover.  Athletes should recover from one sport and try some alternate training  or rehab before their next sport starts.  If you're a college student home for the semester break, this is a great time to see a medical professional to address any issues.
Summer goes quickly so don't wait until the fall sports practices start or you return to college or you're back to work as a teacher (By the way, if you're a teacher or school employee, you've got great coverage through the school employee healthcare benefits: Horizon NJ Direct).
Come in and have the medical professionals at Professional Physical Therapy and Training perform a comprehensive physical exam.  We specialize in many aspects of physical therapy.  If you would like more information, please call us at 973-270-7417.  Our offices are located within the YMCA locations in Madison and Summit, NJ.  You do not need to be a member of the YMCA to visit with us.
Image courtesy of Poulsen Photo / FreeDigitalPhotos.net