26 Thu
What's Behind That Bloated Belly?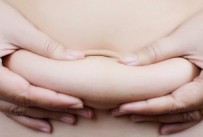 What's Behind That Bloated Belly? 
Written by:  Yuchin Chang, PT, DPT, OCS, CMTPT
You know you aren't pregnant and you haven't been eating excessively or gaining weight. Then why do your pants feel tighter at the waistline and your stomach feels bloated?  You may have some trigger points in the abdominal area that are causing the distention of your stomach muscles.
For some people, having a bloated abdomen is often accompanied by frequent burping, excessive gas, and / or reflux symptoms.  If you have been seen by your gastrointestinal doctor and are taking prescribed medications for the bloating symptoms, but they haven't been effective;  working with a pelvic floor therapist may be helpful to manage your discomfort caused by trigger points.
Abdominal trigger points can cause abdominal pain, excessive gas, muscle distention, and frequent burping.  During a physical therapy session, various manual techniques will be used to deactivate your trigger points as well as ways to manage flare ups and prevent recurrence.
As an orthopedic manual therapist, I have specialized in Myofascial Pain Syndrome and pelvic dysfunctions through years of advanced training. In each treatment session, every patient's treatment program is individualized without a cookbook approach.
If you would like more information about treating abdominal pain and discomfort, please call Professional Physical Therapy and Training at 973-270-7417.  Our offices are located within the YMCA locations in Madison and Summit, NJ.  You do not need to be a member of the YMCA to visit with us.
Image courtesy of Ohmega1982 / FreeDigitalPhotos.net