18 Fri
OBJ & The Dreaded ACL Tear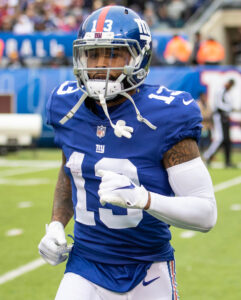 What a game on Sunday. If you were watching closely, like we were, you probably cringed and yelled "ACL tear" at your TV as Odell Beckham Jr. went down late in the second quarter. Well maybe you didn't yell ACL tear but you knew something was obviously wrong when he went down and had to be carried off the field. 
Odell Beckham Jr. is arguably one of the most talented and most athletic receivers in the game today. However, in the last two seasons, he has suffered from two devastating non-contact knee injuries. Both times he took a hard step trying to slow down his body. Unfortunately, his body kept moving over his knee. The reality is, even in a contact sport like football, the majority of these types of knee injuries don't happen when the player is getting hit. 
Even with his unbelievable athleticism and skill, plus almost a year of rehab prior to returning to the field, this still happened again. Clearly, his coaches felt he was ready, as he proved it all season long. The point is, within sports, these things happen. However, there is plenty you can do to ensure you or your young athlete stay healthy this season. 
If you or your young athlete has injured their knee and is hoping to return to sports, there should be extensive testing to ensure their strength and stability are ready for the demands of their sport specifically. You would be surprised to hear how many times we have seen young athletes following a re-injury.  Where they probably returned too soon, where there was no testing prior to them returning. "Yeah, wear a brace and you'll probably be fine". I don't know about you, but for me "you'll probably be fine" is not good enough for me. Even if their doctor says they are cleared to play, and there has not been any formal testing to return then they are at high risk of re-injury. 
So what should you do then? Find a healthcare provider that specializes in sports injuries and is willing to perform extensive testing to ensure you or your young athlete is ready to return. Here at Professional Physical Therapy and Training we perform extensive testing that has been shown a player's readiness to return to sport. Even if you or your young athlete has never been injured there may be something about their strength or mobility that could put them at higher risk of injury this season. We are offering a Sports Readiness Assessment now before spring sports start to ensure you or your child is ready to play this season.