26 Thu
Cookie cutter template PT is not for everyone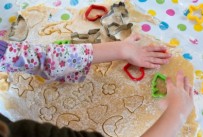 Cookie cutter template PT is not for everyone
Paul Kochoa, PT, DPT, OCS, CGFI
Consider, if you will, what physiotherapists do. We are trained to evaluate and treat a variety of conditions and disorders.  And then consider the human body. How many different types of people and bodies are out there. Your body is not quite like another person's body.  Then why would every person going to a physiotherapist get exactly the same program?
I've worked at several outpatient physical therapy clinics that seemed like mass production automotive plants. They started each person the same way, sent them to next station and the next person to work with, and so on. It didn't matter how many times they came per week or how long they kept coming to therapy. It was the same.
Now, granted, educated physiotherapists generally use some sort of treatment protocol and follow certain clinical prediction rules, but in some clinics, it becomes very monotonous and stagnant.  Treatments are cookie-cutter template sessions that really accomplish very little.
To create a change, one must apply enough intensity and novelty of intervention for the body to adapt. Performing the same thing every visit really doesn't accomplish anything, but results in more visits and slower recovery. In most clinics, no matter how skilled the physiotherapist is, the amount of patients seen per hour makes it nearly impossible to individualize and tailor each treatment.
To create more change over a shorter period of time, you have to be aggressive and novel. Change the program and treatment, and the body will adapt. Each person is unique. Each person's progress is unique. Treatment should be unique. Not everyone that comes in with an Achilles' tendon problem should get the same thing. The key and effectiveness to physical therapy treatment is proper evaluation and novel treatment. Know the correct question to get the correct answer.
If you go to see a physiotherapist, make sure you get the correct care and treatment. If you go to McDonald's, you get a burger, if you go to Shake Shack, you get a better burger (the best burger in my opinion).  It's the difference in getting the same thing that everyone else gets versus getting something that's meant and made for you.  As a medical consumer, look for the best value for your medical dollar.  Invest in the best to get the best.
If you would like more information, please call Professional Physical Therapy and Training at 973-270-7417.  Our offices are located within the YMCA locations in Madison and Summit, NJ.  You do not need to be a member of the YMCA to visit us.
Image courtesy of franky242 / FreeDigitalPhotos.net