12 Fri
Cupping makes an Olympic debut, but we've been doing it for years.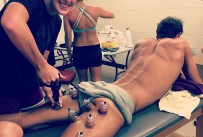 Cupping makes an Olympic debut
Paul Kochoa, PT, DPT, OCS, CGFI
The New York Times and other media outlets have picked up on the purple marks on Olympic athletes' bodies and it seems that cupping is the new craze.  Just like Kinesiotaping and Instrument Assisted Soft Tissue Mobilization in the past Olympics, this year, cupping makes its debut and the public is wondering what it is.
Cupping is a form of soft tissue mobilization.  Using suction, we can pull blood to a particular region, increasing tissue perfusion and circulation; but we can also move the suctioned area, creating more tissue mobility.
Even though it's getting more media coverage than ever, we've been doing here at Professional Physical Therapy and Training for years.  We've used plastic bells for suction and also plungers to mobilize tissue.
If you're interested in learning more about it or trying it out, come in for a visit and learn how cupping can help your be your best, just like an Olympian!
Want to know more?  Contact us at Professional Physical Therapy and Training to unlock your potential by calling 973-270-7417, and tell them you want to feel better, move better, and play better.